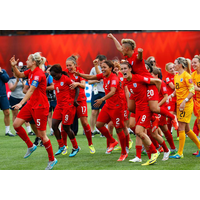 Equality in sport has come a step closer as female representation in the boardrooms of Britain's publicly funded sports has reached an average of 30 percent for the first time.
The landmark moment is revealed in a report to be published on 6 November by Women In Sport, shown exclusively to The Independent on Sunday. The milestone also represents a victory for this newspaper's campaign for greater equality in sport.
The new average represents marked progress since the organization's first audit of women in sport leadership six years ago, when boards were only 21 percent female. On executive teams, women now make up an average of 40 percent, up from 21 percent in 2009.
There are also signs of improvement in the profile of women's sport. In 2007, Wimbledon awarded equal prize money to male and female competitors for the first time; women got the same billing in the Boat Race as men; and the Fifa Women's World Cup achieved its greatest level of media coverage so far.
Chair of British Rowing Annamarie Phelps: 'At European level, often I'm the only woman in the room' (Peter Macdiarmid)
Despite the progress, sports equality campaigners said many sports were lagging behind. There are still several whose governing bodies have no women at executive level – and others with only one woman appointed to a board full of men.
Ruth Holdaway, chief executive of Women in Sport, said of reaching the 30 percent threshold: "This is a fantastic move in the right direction. It shows things are getting better. It's been great to have the support of The Independent on Sunday. To have a newspaper saying 'this is important' and putting pressure on sport to make these changes is critical."
However, she warned that the job was "by no means" finished. "When you look behind the figures you can see there are some national governing bodies lagging behind. There aren't enough women coming through the pipeline within organizations which would make it easier for women to naturally move into these roles rather than being sought from outside."
Of the 63 organizations surveyed, 26 have at least 30 percent female representation on the board, but 29 still fail to meet the 25 percent gender balance guidelines supported by government. The Minister for Sport, Tracey Crouch, said: "Sport is moving in the right direction on gender equality, however this report shows that there is still room for improvement. I want all sports governing bodies to have at least 25 percent female representation on their boards and more women in positions of power. Gender should not be a barrier."
---